March 23, 2020
Conversing with the Early Moderns: On Reading Voices in the Archives of Armenian Mobility1
By: Sebouh David Aslanian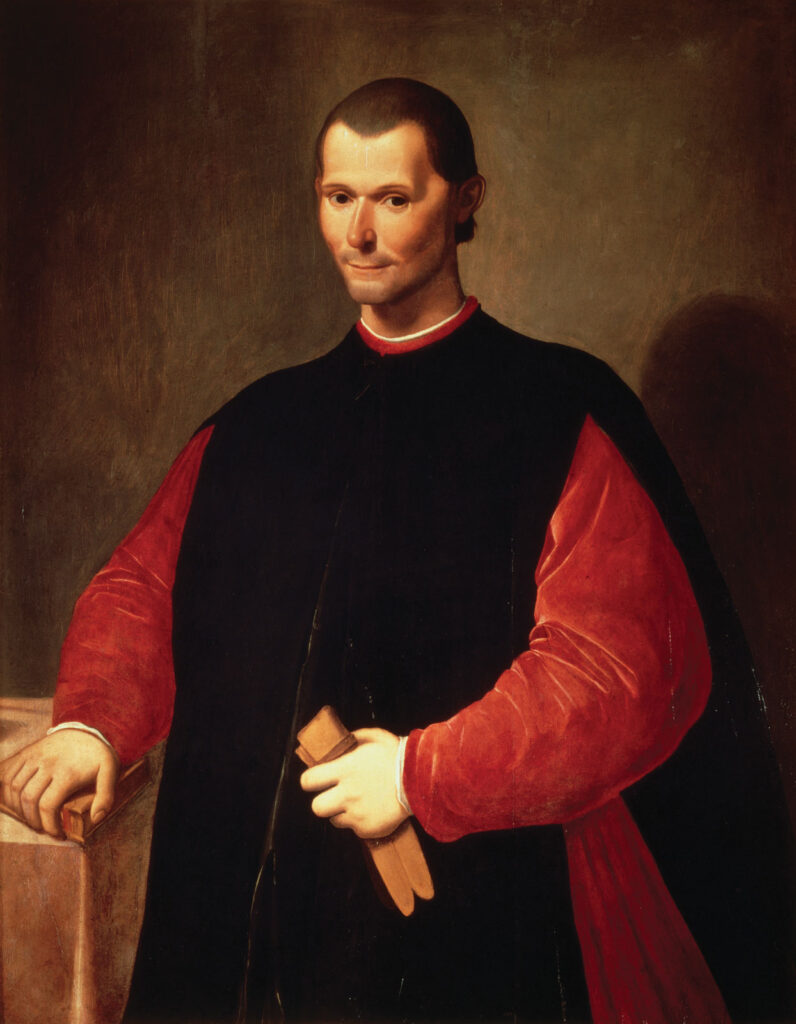 On a cold winter evening on 10 December 1513, the Florentine humanist and father of modern political science, Niccolo Machiavelli, sat down to pen a letter to his friend Francesco Vettori. Exiled by the Medici from his native Florence, Machiavelli was at his villa at Sant'Andrea in Percussina where he spent his days supervising work on his family grove, trapping birds, talking with the local unlettered villagers, reading Dante and Ovid in the mornings and, most importantly, "conversing with the ancients" when nighttime fell. He recalls his daily routine in a celebrated letter to his friend and Ambassador in Rome, Vettori:
When evening comes, I return home and go into my study. On the threshold I strip off my muddy, sweaty, workday clothes, and put on the robes of court and palace, and in this graver dress I enter the antique courts of the ancients and am welcomed by them, and there I taste the food that alone is mine, and for which I was born. And there I make bold to speak to them and ask the motives of their actions, and they, in their humanity, reply to me. And for the space of four hours I forget the world, remember no vexation, fear poverty no more, tremble no more at death: I pass indeed into their world.2
I first chanced upon these profoundly moving lines either when I was an undergraduate student at McGill University in a course where we were required to read The Prince or slightly later at the New School for Social Research in New York where I did my Master's degree in political thought and historical studies. I have chosen to begin my talk today with this episode in Machiavelli's life not because this is one of history's "epistolary and rhetorical masterpieces" and arguably the most important private letter ever sent by a scholar and renaissance man par excellence — it is, after all, the epistolary site where the Tuscan writer first mentions his progress in writing a work on the "Principalities" (obviously a reference to his masterpiece The Prince).3 Rather, this passage serves as a natural beginning for my talk because several summers ago, back when I was fully immersed in reading letters and correspondence from the early modern period written by Armenian men of letters, archbishops, and only semi-literate merchants stored at the archives of the Holy Office for the Propagation of the Faith (De Propaganda Fide) in Rome, I was reminded of how some of the intense feelings and passion I was experiencing as a scholar were verbalized in this famous letter.
During the last fifteen to twenty years of my life, I have studied the early modern period in both global and Armenian history. Stretching roughly from the tail end of the sixteenth to the late eighteenth century, this largely neglected period stands out in the history of the Armenians for marking the time when a great number of them were for the most part violently transformed from rural peasants living on their ancestral lands to — in some cases — mobile urbanites sparsely populating the great urban centers and port cities of the early modern world of global circulation and exchange. Two "detonations of forced mobility" (the Celali rebellions in Eastern Anatolia [1597–1608] and the great deportations of Shah 'Abbas I [1604–1618]) birthed this period and conspired to bring into being what became the Eastern and Western Armenian diasporas, radiating outward from their respective urban metropolises of Constantinople/Istanbul in the West to Isfahan/New Julfa in the East. Much of my work and teaching has focused on bringing back to life this immensely important but little-known period. Throughout, I have been interested in framing the events and processes not in a national but in a global context. The archivally-driven nature of my work, my philological devotion to documents, and my concern for the individual voice and agency of the historical protagonists have directed my global focus into a microhistorical direction, thus embracing, and indeed helping to create, a new genre in global or world history known as "global microhistory."4
What I plan to do in my Machiavelli-inspired talk is to highlight a few episodes of individuals from the past whose company I have enjoyed and to whom I have posed the kind of questions that historians are in the habit of posing. Rescuing from oblivion the voices of these cultural producers who have also been intellectual heroes of mine has often made me "forget the world" and "remember no vexation," as Machiavelli describes so eloquently in his letter to Vettori. More importantly, isolating a voice in the past can — and indeed has — opened up for me a hidden world of long-distance networks constituted through mobility of individuals, the art of epistolary communication, as well as other forms of paperwork some of which have survived in the archives. It has allowed me to witness up close (as if by looking over their shoulders) how both the elites and subaltern of the early modern Armenian diaspora were engaged in weaving meaning and community into the intricate and at time torn fabric of their world-wide diaspora. With this in mind, I will concentrate below on a particular genre of early modern documentation known as the "ego document," that is "a source or 'document'—understood in the widest sense—providing an account of, or revealing privileged information about, the 'self' who produced it."5
As Elisheva Carlebach has explained in the context of the Sephardic diaspora, reading letters and correspondence and retrieving "voices that have long fallen silent" or lost in time is indeed "one of the supreme pleasures of the historian's craft."6 This is in no way a simple task, as "positivists" in our profession once implied and as some of their descendants still do. It involves understanding how those voices are mediated to us through the archives, of symptomatically reading the documents conveying them with the skills of a philologist and the analytical frame of mind of a historian. When done carefully, the experience of making contact with a unique and authentic expression of individual sensibility in the past is often extremely gratifying. One of the greatest rewards close philological attention to "ego documents," that is, any source that sheds light on the inner experiences of the author, offers the historian is revealing how individuals and whole groups in the past went about performing what Nelson Goodman calls the art of "world-making," that is, of creating deep social meaning through symbolic and other work.7 In the case of the Armenians I have chosen to study, performing deep dives in archives scattered around the world and reading their letters and other documents often reveals the personal or individual agency that is invested in generating globe-girdling and trans-diaspora networks of patronage that result in world-making through mobility and print culture, the topic of my next book.8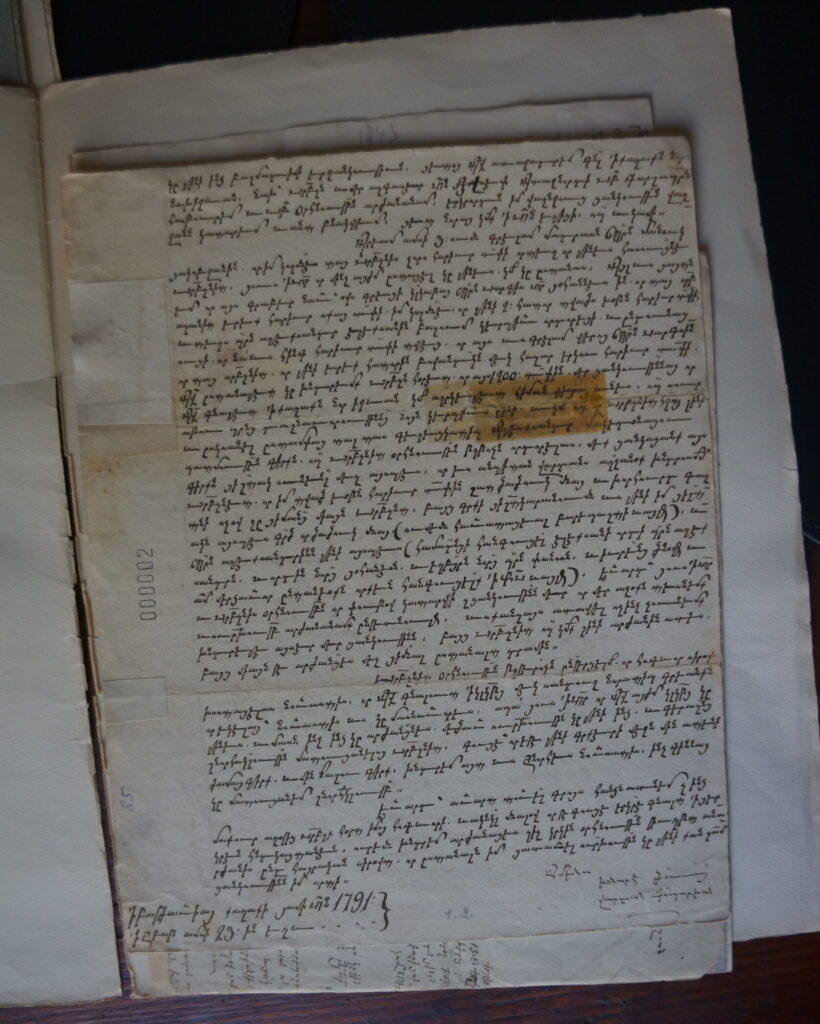 Consider for instance the case of Ter-Stepanos Kahana Harut'iwnean, an all-but-forgotten legate or nuirak' sent to India and the Far East by Archbishop Hovsep' Erkaynabazuk (long-armed) Arghut'eants' (the primate of the Armenians in the Russian Empire and the founder of the Armenian diaspora colony of Nor Nakhijevan [Rostov Na Donu]) in 1786 to raise funds for the newly established colony.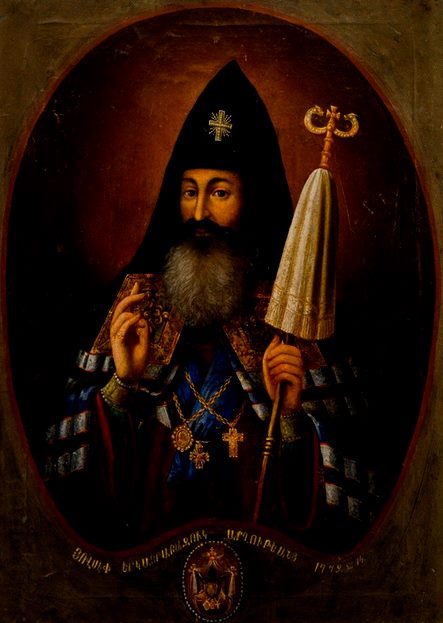 Thanks to this legate and many others like him who are even less known because their papers have not survived, a good many wealthy Armenian merchants in India, Batavia, and even in Macao or Canton (today's Guangzhou in China) were mobilized to raise vast sums for the fledgling community of Nor Nakhijevan. Upon meeting Ter-Stepannos sometime in the late 1780s, Hovanjan Hakop di Guerak, the wealthiest Armenian in Surat, donated a small fortune of his wealth for the building of a school and printing press in the new colony.9 China's wealthiest Armenian, Matteos di Joannes, a Julfan "merchant prince" residing in Guangzhou and Macao and specializing in the trade of Indian opium in the Celestial Empire, also bequeathed part of his enormous wealth to the new Armenian colony on the Rostov River in his will of 1794.10 Matteos was preceded by Vardan Gasparian and his circle of friends in Batavia (today's Jakarta in Indonesia) and Calcutta who, also upon being approached by Ter-Stepanos, donated money for the support of the Nor Nakhijevan press and the printing there of the Alexander Romance of pseudo-Callisthenes.11 In his letter dated 23 Shbat' [June 11] 1791, Gasparian wrote to the legate:
With God's help, after you receive this 1,200 rupees, we beg your holiness that after you yourself return to the city of New Nakhijevan or send the money there you should do in the same fashion as you did with your agreement with the gentlemen of Surat or as it may please you and begin publishing ten beautifully printed copies of the history of Alexander the Great as your holiness had exhorted us in your letter of blessing. We wished to have this book in our memory as in the following manner.12
We know about these transimperial acts of patronage that helped constitute the early modern Armenian diaspora one letter at a time, thanks to a few dozen letters addressed to Ter-Stepanos Kahana from India dating back to the early 1780s and 1790s that have miraculously survived and are stored at the Bibliothèque Nubar in Paris where they were transported from the archives of the Armenian Patriarchate in Istanbul in the 1920s. It appears that this forgotten fundraising priest died under unknown circumstances in the Ottoman capital probably in the early years of the 1800s.13 No one who reads Ter-Stepanos's letters can come away unmoved by the pathos that overwhelmed this man as he traveled intrepidly to collect funds for his community back in the Russian empire. In one of the last letters dated 1801 in Tabriz (Iran), where our alms-collector had arrived from India after a fifteen-year sojourn there and was on his way to Kars where he planned to rescue his sister Shushanik from servitude, we read the following:
And in staying in Tehran, I became ill and lingered there for two and a half months…. Thence, I came here [Tabriz] to the home of Mahtesi Agha Johannes, where I have remained for close to two months. Now, since Chapar Ghuli Khan has closed the direct route, I will go to Van and from there to Kars in order to emancipate from slavery my poor sister. May the Lord grant that she is still alive and that I may find her with someone at a place I know not yet. After liberating my sister, I will proceed to Istanbul and from there to Astrakhan. However, as to how long I will stay in Istanbul, I do not know. 14
Unpublished letters stored in archives are not the only sources that transport us to the scene of diasporic mobility and pathos. Colophons appended to the end of printed Armenian books may be equally resonant with a sensibility born of mobility and sorrow. Here is Oscan Yerevants'i, the first printer of the Armenian Bible in 1666–1668 in Amsterdam and one of the intellectual luminaries of his age, describing his voyage to Europe where he was destined to make history:
Now in the year of the Lord sixteen hundred and sixty-two, on September eleventh, and in the reign of and upon the command of the Catholicos of Holy Ejmiatsin, Lord Hakob, I departed from my country and nation and traveled to the lands of Europe for the purpose of printing this Godly book. And after much sorrow, I arrived at the frontiers of Italy at the city of Livorno in the lands of Tuscany. From the outset, I found no one there who was helpful to me, on account of which I left there and went to Rome that perhaps there might be found there success for this endeavor. But there too there was no consolation or succor for this work because of the opposition of many, both from those of our nation as well as from their [the Roman Curia's] rules and regulations, which is tiresome to recount one after another.15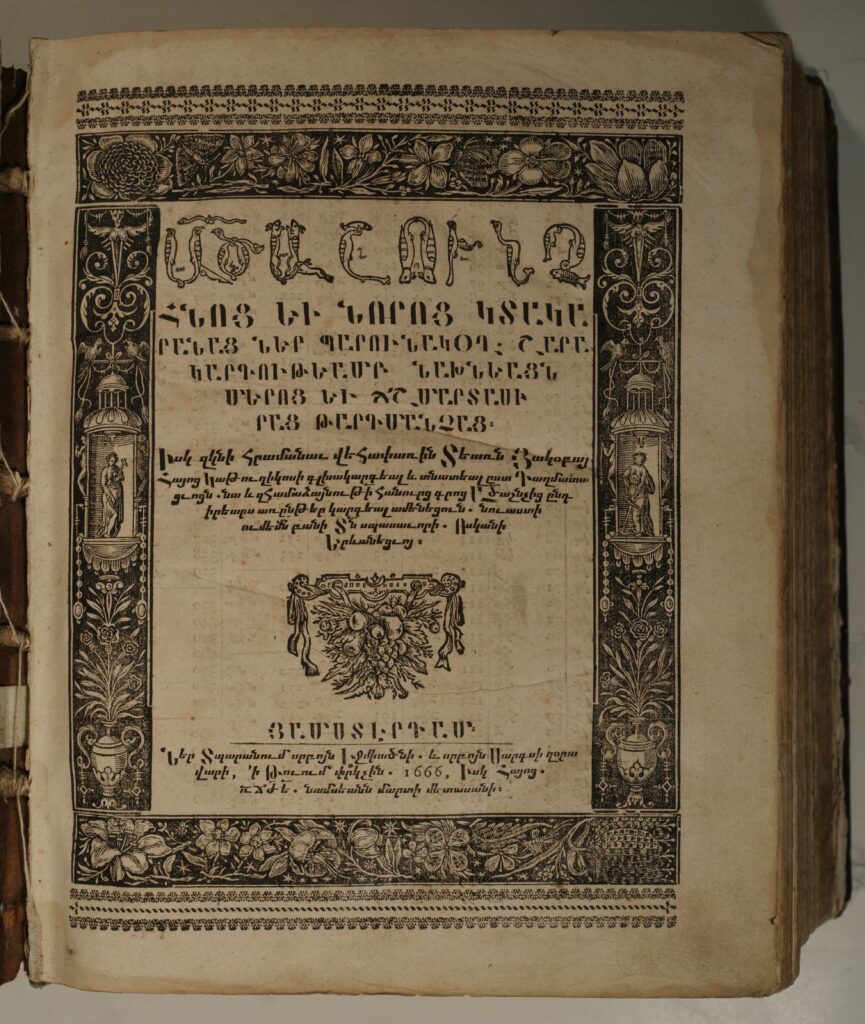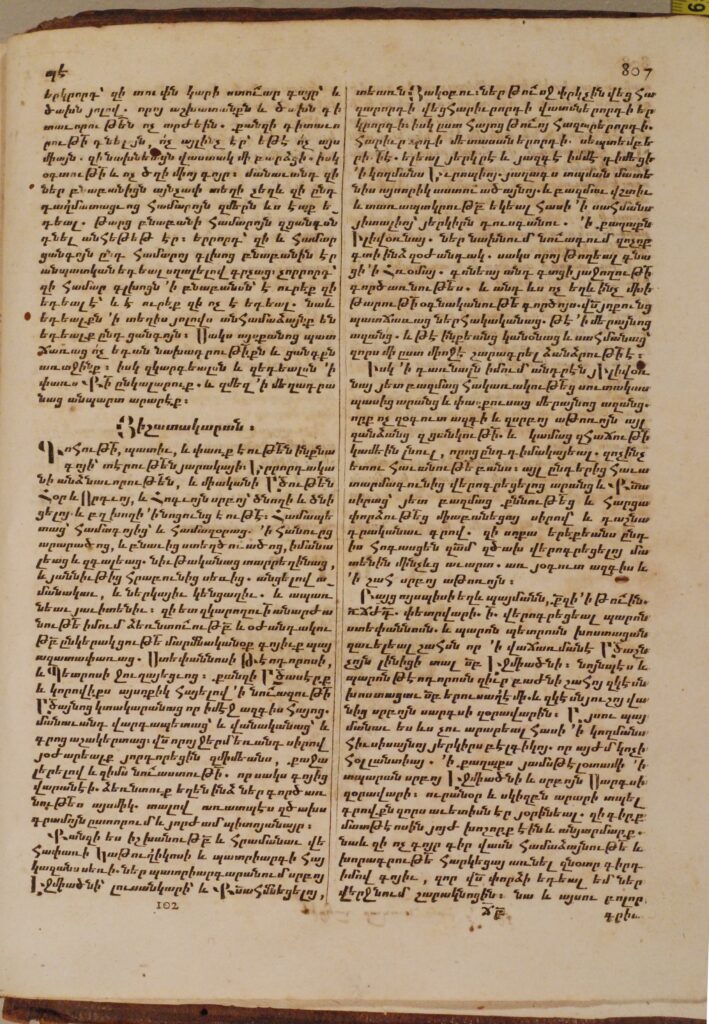 Title page and colophon of Oscan Yerevants'i, Astuatsashunch hnots' ew norots' ktakaranats' (The Holy Scriptures of the Old and New Gospels), Amsterdam, 1666-1668. (Image courtesy of Merujan Karapetyan.)
Written from Amsterdam, Marseille, or Livorno, and stored in large numbers at the archives of De Propaganda Fide, Oscan's letters also have the force of transporting the careful reader to this printer-priest's specific time and place. It is one thing to extract useful nuggets of empirical information from these missives from the past (the number of print runs for the Bible, for instance, or how much money his Julfan business partners in Livorno invested in this colossal publication, etc.) and quite another to almost hear the timber of Oscan's voice and to experience some of the melancholy and hardships that plagued him as he tried to elude the long arms of the Holy Office's censorship regime in Amsterdam.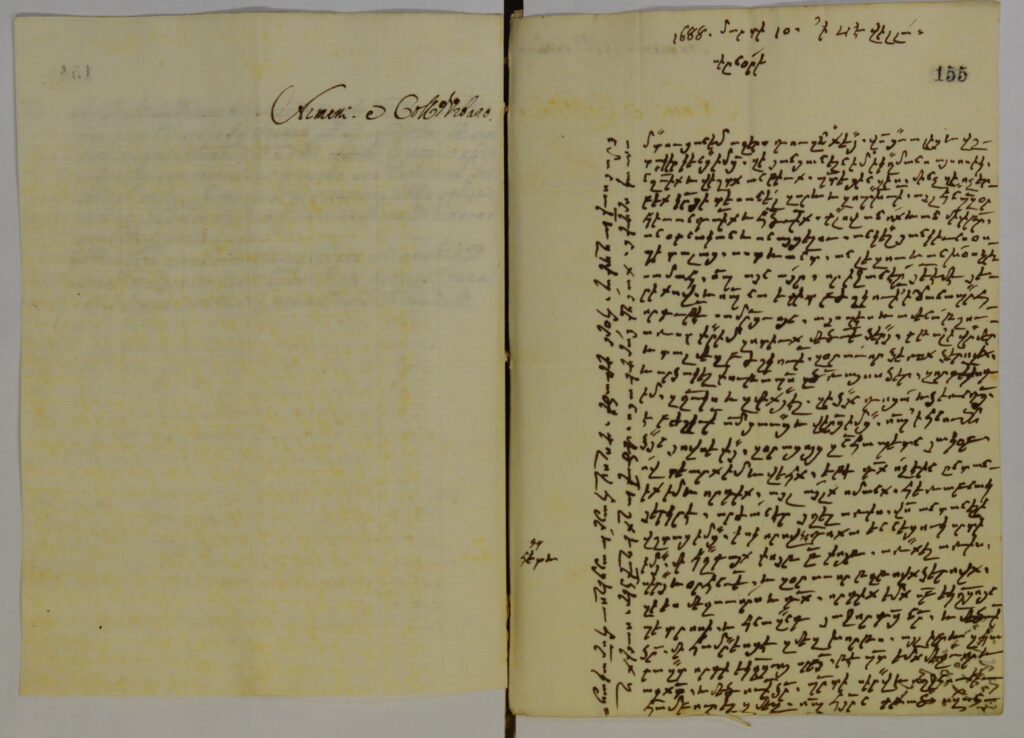 There is, finally, this sad letter from Archbishop Thomas Vanandets'i (Oscan's formidable successor and the last great Armenian printer in Amsterdam) also preserved in the De Propaganda Fide archives. Written from a hospital bed in Sevilla (Spain) on 10 March 1688, the letter paints a rather gloomy picture of the Archbishop's travails in the service of birthing Armenian print culture in the Dutch capital, which he accomplished about seven years after this letter:
I present this small petition on account of my painful and sorrowful life, for upon my passing into these parts [i.e., the Iberian Peninsula], difficulties and innumerable sorrows have surrounded me, so much so that I have never been able to see the sun and taste happiness. Rather, I have continuously experienced illness and woes. Being without care, consolation, or assistance and bereft of any visitors, I have fallen [ill] in the corner of this hospice or another, without language, mute, and half-dead…16
Of course, Thomas had every reason to add a tint or two of sorrow to his predicament as a gharib or ill-struck traveler in a distant and foreign land. He was, after all, petitioning the College of Cardinals at De Propaganda Fide to have his two young nephews, Mikael and Lucas, be given leave from Rome's famed Collegio Urbano where they were studying theology, philosophy, and medicine, so that the two youths could join their ailing uncle in Spain.
It is moments like this, and many other less dramatic ones, when the past comes to life for historian and reader alike, and agency in history becomes more than mere abstraction. Letters and "ego documents" like the ones I have referred to above, drive home the point that our noble craft should never lose sight of the real men and women — both lettered and unlettered, members of the Church and mercantile elite, and the more numerous shadowy figures from the lower classes — who made the past what it is through hardship, perseverance, and collaboration. Constructing vivid and analytically satisfying accounts of the past requires us not to rely on abstract theories from whatever happens to be fashionable in the humanities or social sciences or repeat clichés uncritically passed down from popular lore or secondary scholarship, but rather to hop from archive to archive, scriptorium to scriptorium, or library to library, to listen attentively to the voices of the past. Like Machiavelli on his country estate outside of Florence, we students of history and literature must accustom ourselves, at the threshold of our work, to stripping off our sweaty and muddy workday clothes and wearing the robes of the archives before we are lifted out of the daily tumult of our own worlds and are welcomed into the company of our interlocutors of the past.
It should go without saying that graduate school is where we are trained in the technical skills that can make us good scholars of the past. Learning languages and studying paleography are the sine qua nons of our craft. They are technical instruments that every historian's toolkit must contain. Lest, however, we confuse our noble craft with that of the philologists, we must remember that languages and paleography do not a historian make. One also needs to have refined writing skills, a keen imagination, and, above all, the ability to know how to converse with the documentary relics of times past. In order to communicate with history's interlocutors, like Machiavelli did with Tacitus or Livy before writing his masterpieces The Prince and The Discourses, the historian must be trained to pose the right kinds of questions to his or her sources. Training outside of one's narrow area studies field and, especially, a good grounding in literary and social theory, can often help hone these skills.
Where does all this leave us in terms of any sage advice I might have to young scholars embarking on their own journeys of discovery? In addition to paying close and critical attention to documents (epistolary, notarial, or otherwise) and getting training outside your specialized fields of inquiry, I have two more practical words of counsel that are more specific to scholars of things Armenian.
First, I feel strongly about advising younger scholars not to be seduced by ethnic recognition and the easy prospect of ephemeral success inside the community to which you belong, whether local diaspora or "transnation." Do not be deceived by easy recognition, especially if you believe in making a lasting contribution to your local community or the academy at large. Train your focus instead on professional recognition and lasting success outside the community. Publish in the best peer-reviewed journals in your respective fields and pitch your book manuscripts to the best university presses. There are far too many talented scholars born in our field who have their careers also end in the field. Last but not least, do not fear being disrespected by your own and made to feel like you are part outsider or stranger to your own community (whether this is defined as an ethnic diaspora community or the community of Armenian studies). This may feel like a curse at times, but it is also a blessing and source of creativity, critical knowledge, and strength. Own it. Hone it. Make it yours. Remember, alterity is only a step removed from creativity. Remember that the men and women who have made history for Armenians were nearly always on the margins or thresholds of the societies and cultures through which they often had to pass; some of them were even marginal to their own Armenian contemporaries. They were quintessential liminal subjects. Being both a stranger and a familiar person is almost an ontological condition for Armenians, as it has been for the Jews. The smart and creative ones use this condition as an invitation for bringing newness into this world.
---
Sebouh David Aslanian is the Richard Hovannisian Endowed Chair of Modern Armenian History and Professor in the Department of History at UCLA. Aslanian specializes in early modern world and Armenian history and is the author of From the Indian Ocean to the Mediterranean: The Global Trade Networks of Armenian Merchants from New Julfa (Berkeley: University of California Press, 2011) which was the recipient of the PEN Center's Exceptional UC Press First Book Award and winner of the Houshang Pourshariati Iranian Studies Book Award, Middle East Studies Association (MESA), 2011. Aslanian is now completing his second book manuscript (under contract at Yale University Press) dedicated to early modern global print history and provisionally titled Early Modernity and Mobility: Port Cities and Printers Across the Armenian Diaspora, 1512-1800. He is also working on a manuscript on the global microhistory of the early modern Indian ocean based on the voyage of a ship called the Santa Catharina. For more information please click here to visit his Chair's blog page.
---